Yukon's Best History
Display & Contest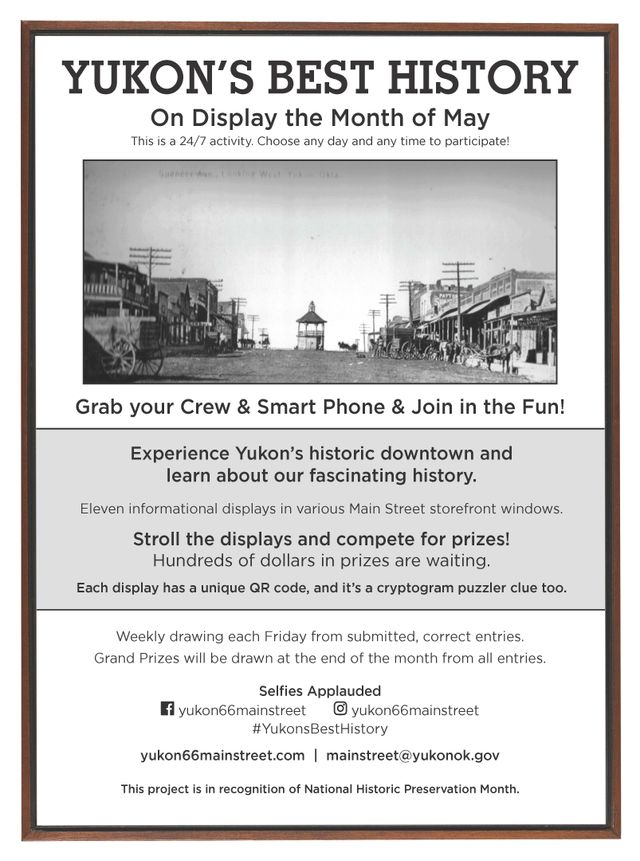 Description
Yukon Main Street is celebrating National Historic Preservation Month and YOU are invited!
"Yukon's Best History Display & Contest," will run 24/7 throughout the month of May.  This is a fun and educational activity for all ages whether participating as an individual, small groups, or bringing a busload. 
Discover Yukon's incredible historic district, featuring 11 downtown properties along Main Street. The contest is as easy as:
1. Stroll and learn the history of the location on each informational display board;
2. Collect the contest clues found on each display;  then,
3, Use the QR code to solve the puzzle and submit your contest entry.  
Weekly drawings in three age categories [adult, youth, and children] as well as amazing grand prize winners will  drawn from all entries at the end of the month. 
Groups may request a special greeting by a local author and historian with special character greeters, as available.  Groups arriving by bus are encouraged to contact the Main Street office to make arrangements for parking. 
Call: 405.350.5999 [M - F 8:30am - 5 pm] or email: [email protected] 
 #yukonsbesthistory  #yukon66mainstreet ­­

Downtown Yukon
Main Street, Yukon , OK 73099
1:00 AM CDT
to 11:59 PM CDT
price
Private:No
RSVP Required:No
Accept Registration Online:No