Yukon Sunset Artist Reception
& Ribbon Cutting Ceremony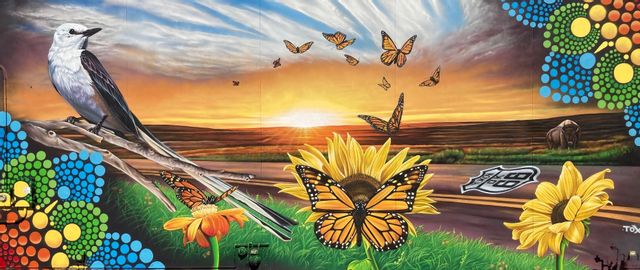 Description
The Yukon 66 Main Street Association is pleased to host an Ribbon Cutting Ceremony & Artist Reception at the Main Street Office [528 W Main Street - Eastside parking lot] - Thursday, August 18th from 5:30 pm to 7:00 pm. First edition canvas prints of Yukon Sunset will be available for purchase, as well as smaller prints. Visit with artist, Tox Murillo for a chat and signing of prints as they last. The Yukon Chamber of Commerce will officially open this beautiful display with a Ribbon Cutting Ceremony. And don't worry, there will be plenty of selfie opportunities throughout the reception.
Yukon Sunset is downtown's newest public art mural located right on Route 66/Main Street in the heart of the historic district. This 21' x 50' work, created by artist, Tox M. of Tox M Studio showcases a vibrant and unique depiction of Yukon culture that is already proving to be a community treasure and a "must-stop" for tourists.
Yukon Sunset was made possible through the generous contributions of many citizens and businesses participating in several downtown programs such as Adopt-a-Bench, Yukon Salutes Banner Program, purchase of YUKON shirts, and by donations made directly to Y66MSA's Beautification Fund. Additional funding was provided by Keep Oklahoma Beautiful Roadside Grant Program and BancFirst of Yukon, who provided the final gap funding needed.
This project was completed in partnership with the City of Yukon, who owns the project property. Zero public funds were spent on this public art mural.

Yukon 66 Main Street Association
528 West Main Street, Yukon, OK 73099
5:30 PM CDT
to 7:00 PM CDT